Show your support for President Trump by committing to vote EARLY! Starting as soon as Tuesday, October 6th, at your local Board of Elections. Join Team Trump for an early vote MAGA Meet Up and pledge your support for Republican candidates up and down the ballot by joining fellow patriots by voting early at the polls!
Questions? Please contact Field Organizer, Charles Lovett, at
clovett@ohiogop.org
or (440) 396-6774.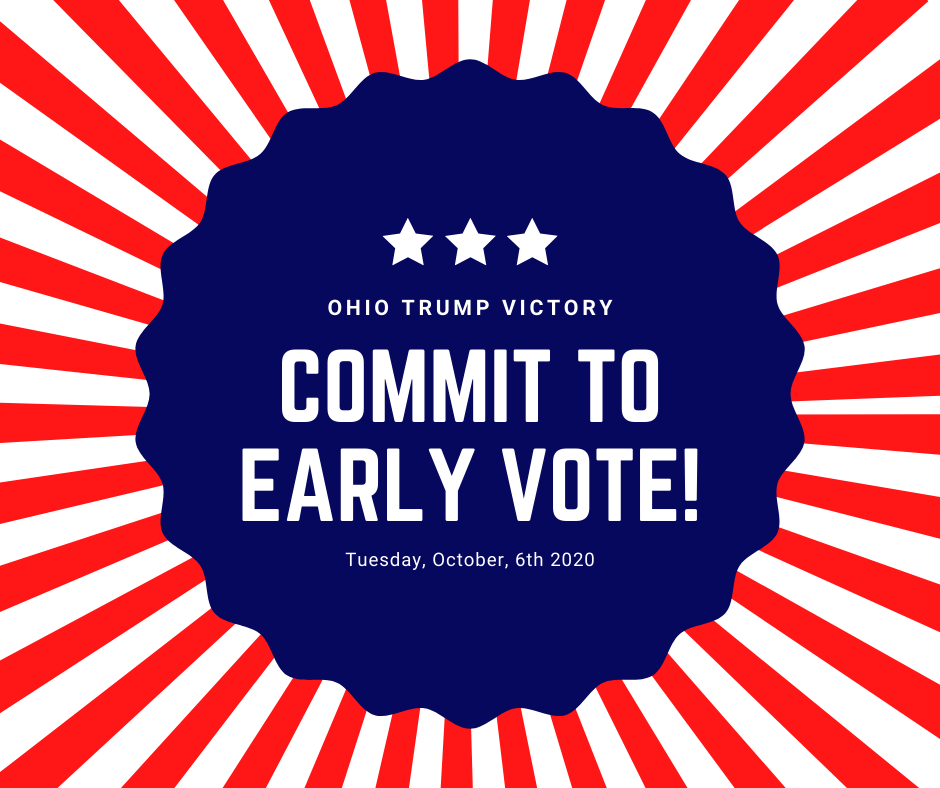 IMPORTANT ANNOUNCEMENT
As some of you may already know, our headquarters is
out of Trump yard signs
. Demand has far exceeded the supply allotted us by the Ohio Trump campaign. This is because
demand is sky-high for Trump signs
, more voters than ever are coming out looking to support President Donald Trump!
Consequently, we have paid for a large quantity order of official Trump signs which are due to arrive on or about September 25.
We have to charge $5.00 per sign to recover costs.
To reserve your sign, click on our Volunteer button and complete the form. When the signs arrive, we will send you notice by email.
On behalf of the Lorain County Republican Party and the Trump campaign, I want to
thank you for your amazing support
of our Party and candidates! Together, we will win in November!
Good luck and God Bless,
David Arredondo, Chairman
General Contact Details
Lorain County Republican Party
1913 North Ridge Rd. E.
Lorain, OH 44055
loraincountygop.org
facebook.com/LorainCountyGOP
(440)-204-9918
A Message from David G. Arredondo, Chairman,
Welcome to the new Lorain County Republican Party website, a website created for the purpose of connecting you, the voter, with Republican leadership.
Our mission is this: to recruit, support, and elect Republicans to public office at the local, state and national level. At the same time, we wish to reinforce traditional American values of Faith, Family and Country. American values are those embodied in our Declaration of Independence, the Bill of Rights, and the Constitution. We honor our flag and stand for the Star Spangled Banner.
Please explore our website to see what it has to offer. Our News Page is created to provide you with information, news, and opinion that the Mainstream Media will not give you. We also welcome your questions and comments.
Our website will also provide you with valuable information about our local leadership team, our Area Chairmen, so that you can contact them and become involved. They are the leaders for the 7 areas of our county and they look forward to hearing from you.
We also provide you with a link to share your contact information—address, email and phone, which will allow us to message you and send important information about events and fundraisers.
Last but not least, we wish to appeal to you to donate through the "Contribute" link. Donations will primarily support our local candidates and their campaigns.
The November 2020 election is the most important one of our lifetimes. We need to count on you for your vote and support for our President and the entire Republican ticket. On election night 2016, Donald Trump won Lorain County and we are expecting the same for 2020.
With your support and votes, I know our Republican ticket will win in November.
Finally, feel free to contact me at: davidar333@hotmail.com.
Forward Together!
David G. Arredondo, Chairman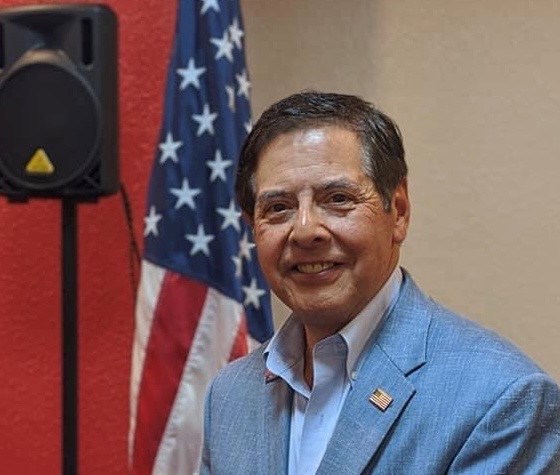 "Mission Statement"
As Republicans, our mission is to recruit, support, and elect Republicans to public office at the local, state and national level. We uphold traditional American values. We believe American values are those embodied in our Declaration of Independence, and the US Constitution, particularly the Bill of Rights. We support equal opportunity, capitalism, and a limited government by and for the people.
Recent News
Thursday, September 10, 2020 1:43 PM
Another endorsement for Gayle Manning! Vote for Gayle Manning! State Rep. OH's 55th district.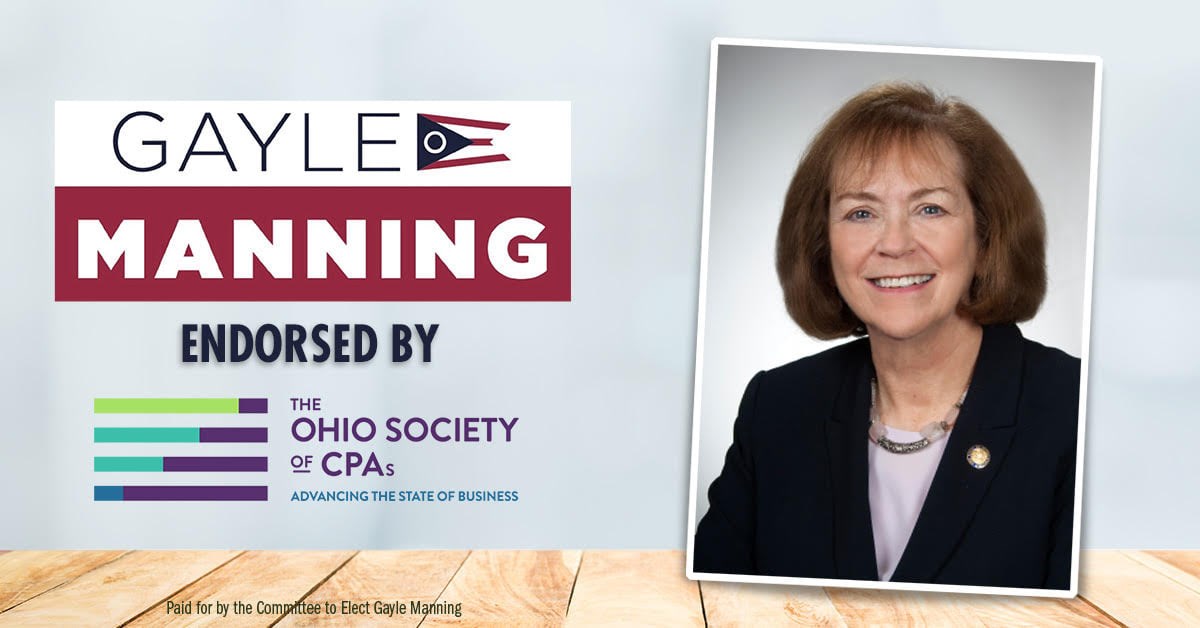 ---
Tuesday, September 8, 2020 1:36 PM
The brilliant Molly Hemingway is at it again! Read this great piece to understand how the "impeachment" came about.
---
Sunday, August 30, 2020 4:48 PM
---
Thursday, August 20, 2020 3:18 PM
---
Tuesday, August 18, 2020 11:15 AM
Letter from the OSBA Chairman regardinging 2020 OSC judicial candidates.
2020 Supreme Court of Ohio Candidate Ratings
Fellow Members of the Ohio State Bar Association,
I am pleased to inform you that the bipartisan OSBA Commission on Judicial Candidates has completed its evaluation of the four candidates running for the Supreme Court of Ohio for the Nov. 3, 2020 General Election. As members of the OSBA, you are receiving this information prior to the official release to the media and the general public later today.
Operating under the process adopted by the Board of Governors, Commission members scored each candidate according to the following criteria: legal knowledge and ability, professional competence, judicial temperament, integrity and diligence, personal responsibility, and public and community service.
Out of 30 possible points, candidates receiving a total composite score of 25 or higher, based upon their average scores in each category, earned a rating of "Highly Recommended." A score between 19 and 24 would garner a rating of "Recommended." And those earning 18 or less, would be deemed "Qualified by Statute." Each candidate was scored on an individual basis, without regard to whom they were facing on the November ballot.
The ratings and scores are as follows:
Judge Jennifer Brunner was rated Recommended, with a score of 20.

Justice Judith L. French was rated Highly Recommended, with a score of 27.

Justice Sharon L. Kennedy was rated Recommended, with a score of 23.

Judge John P. O'Donnell was rated Recommended, with a score of 24.
These scores were informed by a thorough evaluation of the candidates by the Commission, including a written questionnaire and resume, as well as a review of each candidate's decisions, writings, publications, letters of reference, docket reports, financial disclosure statements and other public records. Lawyers, judges and other citizens familiar with each candidate's reputation, past performance and qualifications were consulted as part of the vetting. And finally, each candidate was interviewed individually by the Commission last week.
Though judges make decisions that affect the everyday lives of Ohioans, voters consistently report that they do not know enough about the candidates to make informed decisions. I'd like to thank the candidates, the members of the Commission, and the OSBA for their efforts to provide context and good information to members of the bar, as well as the public, and their commitment to promoting a well-informed electorate this November.
Sincerely,
Martin E. Mohler
Chairman, OSBA Commission on Judicial Candidates
---
Monday, August 17, 2020 2:18 PM
---
Saturday, August 15, 2020 2:26 PM
Click below to see the the Lorain County Strip ticket with all of our 2020 candidates!
Republican Party General Election Candidates 2020

---
Wednesday, August 12, 2020 9:30 PM
Today was the grand opening ceremony of Trump HQ in Lorain County. Party Chairman, David Arredondo, spoke to a friendly crowd of enthusiastic Trump supporters. Click the link to read the full story.
---
Tuesday, August 11, 2020 1:21 PM
New literature piece from Justice Kennedy!
Justice Kennedy For Ohio Supreme Court!
---
Sunday, August 9, 2020 3:35 PM
Elect Michelle Hung and David Moore!
We can't let Democrats win the County Commissioner races this November. We need to seize on this opportunity to have TWO Republican County Commissioners in Lorain County. It has been some 80 years since we've had this opportunity, we can't afford to waste it, not in the times we are facing.
Click the link to learn more about why we need to elect TWO new County Commissioners!
---
Friday, August 7, 2020 1:28 PM
HQ Grand Opening!
Wednesday August 12th, 2020 at 11:00AM, we will be having a Grand Opening ceremony at LCRP Headquarters.
Some local candidates, including Rob Weber (US House OHD9) will be present for the Grand Opening ceremony of Lorain County Trump HQ. The Trump campaign will be using our party headquarters location as the base of operations for the Trump 2020 reelection campaign in Lorain County. Trump Campaign Regional Director Jared Borg will be the keynote speaker. The address is:
1913 North Ridge Rd.
Elyria, OH 44055.
We look forward to seeing you all there!
---
Tuesday, August 4, 2020 1:24 PM
Election workers needed!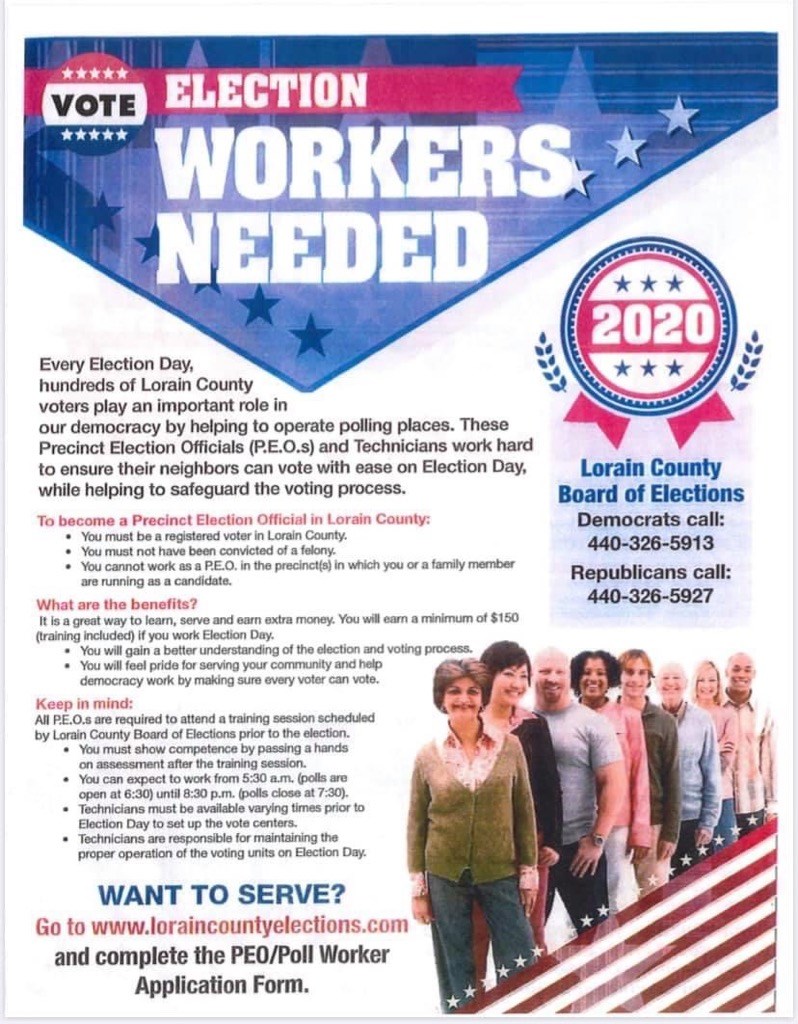 ---
Tuesday, August 4, 2020 1:14 PM
---
Monday, July 27, 2020 2:34 PM
Recent cases of voter fraud prove President Trump is right to be suspicious.
---
Wednesday, July 22, 2020 7:18 PM
The Final Countdown!
This Sunday marks 100 days until the November 3rd Election.
That means:
100 days until we choose JOBS over mobs.
100 days until we choose to DEFEND THE POLICE over defund the police.
100 days until we choose AMERICA FIRST over China first.
100 days until we choose to KEEP AMERICA GREAT over giving up our country to AOC and the radical left.
100 days until we choose to re-elect PRESIDENT DONALD J. TRUMP over Basement Biden.
This weekend, we will have several canvassing groups knocking doors in Lorain County! President Trump is counting on YOU!
We all know what is at stake in this election! We MUST Re-Elect President Trump!
Can we count on you to help us this weekend to connect with voters and let them know how high the stakes are?
We are giving away TRUMP SWAG - hats, mugs, t-shirts, bumper stickers, and more - to volunteers who help us reach our goals!
Can we count on you this weekend?
Interested in joining? Contact Trump Campaign Field Organizer Charles Lovett (440)- 396-6774 or clovett@ohiogop.org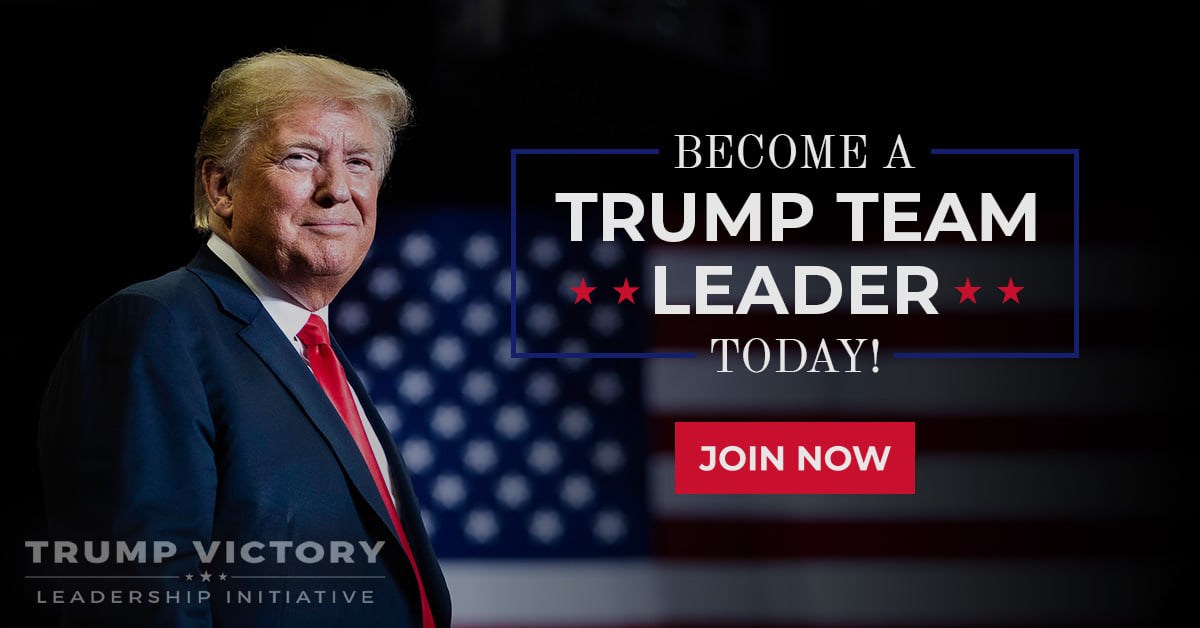 ---
Tuesday, July 21, 2020 9:01 PM
Statement from ORP Chairman Jane Timken
---
Sunday, July 19, 2020 1:42 PM
David J Moore and Michelle Hung are having a fundraiser at Matus Winery on Thursday, August 6th.
---
Monday, July 13, 2020 1:28 PM
President Trump's accomplishments, caution, the list is long.
The next time your democrat friends ask you about President Trump, show them this!
Click here for a full list of President Trump's accomplishments
---
Monday, July 13, 2020 1:01 PM
County Recorder Candidate Mike Doran Upcoming Fundraiser
Lorain County Recorder Candidate Mike Doran is having a fundraiser Wednesday, July 29th 5:30pm at the Red Tail Golf Club in Avon, Ohio.
Click the link for details!
---
Friday, July 10, 2020 6:16 PM
Folks, this is the America of AOC and Bernie Sanders that awaits us if Biden wins!
He is not moving to the middle and instead going extreme Left
Please read and share.
---
Thursday, July 9, 2020 12:52 PM
Click link to view.
---
Wednesday, July 8, 2020 2:43 PM
A Message from LCRP Executive Committee Chairman David G. Arredondo.
Click the link to read the full statement.
---
Tuesday, July 7, 2020 8:24 PM
Violence and shootings erupt across the nation, with many of the victims being children.
---
Monday, July 6, 2020 8:32 PM
We agree with Newt!
---
Saturday, July 4, 2020 8:19 PM
Arguably President Trump's best speech ever, may also be his most important speech ever.
---
Friday, June 19, 2020 10:56 AM
LCRP Elects new Executive Committee Chairman
Former Lorain County Republican Party Executive Committee Vice Chairman David Arredondo was elected as the new Chairman of the Lorain County Republican Party Executive Committee on May 24th, 2020. Kitpton Mayor Robert (Bob) Meilander and David Arredondo ended the first vote in a tie. David Arredondo was able come out ahead in the second round, and is now committed to leading the Republican Party into a better and brighter future here in Lorain County. Now, under new leadership, the people of Lorain County have a lot to look forward to from their local Republican Party.